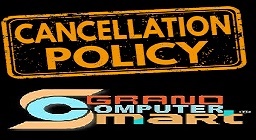 ORDER CANCELLATION POLICY.
BY USING OUR SERVICE, YOU ARE AGREEING TO THESE TERMS.
For customers who want to cancel their order after payment , please contact our admin at (support@grandcomputersmart.com) and we will refund your payment within the next 48 hours.
If you make a payment with PAYPAL, and cancel the order directly without processing a request to us, and dispute to paypal with a note: ORDER CANCELED OR I DO NOT RECEIVE MY ITEMS.
Then you have intentionally violated our shop regulations. We will report to paypal that you are intentionally to drop our company image. We will ask PAYPAL to investigate by escalating the dispute to a claim.
PAYPAL will review the case and decide on the outcome (usually in 30 days or less). Every time there is a case of disputes, claims like this, we always win, assisted by PAYPAL with strong evidence. And the inspection process will be carried out by paypal and we will send all proof of purchase (date and time of purchase) as well as delivery information, but in this case YOUR PACKAGE IS HOLD BY A SHIPPING COMPANY (ON HOLD).
After we win the case, then after 30 days, we will return your package back to our store and we will REFUND YOUR PAYMENT as much as 80% FROM TOTAL PAYMENT.
WHY DO WE CUT 20% FROM YOUR PAYMENT ?
This fee for shipping costs,taxes,etc to the shipping company (because your package has been registered in the shipping process and all costs we have paid).
Every transaction that you have done on our website (Grand Computer Store) means that you are subject to our company regulations and subject to applicable laws or national laws. If you do not comply with our company policies, we will refer the matter to the relevant law enforcement authorities. We respond to suspected copyright infringement, etc. and process it into the U.S. Digital Millennium Copyright Act.