Game Worlds Come Alive*
PS4 Pro gets you closer to your game. A turbo-charged version of original PS4, the PS4 Pro heightens your gaming experience with faster, more stable frame rates in your favorite titles, and also supports up to 4K video streaming. A deeply connected gaming community, PlayStation Plus**, offers you a platform to play with or against your friends. You'll also get access to endless streaming movies, TV shows and music, and share your epic game moments with a press of button.
Spectacular Graphics
Explore vivid game worlds with rich visuals heightened by PS4 Pro*.
Enhanced Gameplay
Support for faster frame rates delivers super-sharp action for select PS4 games.*

One Unified Gaming Community
Compatible with every PS4 game. Play online with other PS4 players with PlayStation Plus.**
Extraordinary Entertainment
With up to 4K streaming and 4K auto-upscaling for video content.***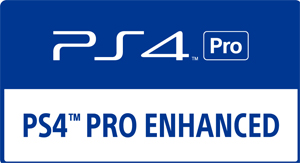 *Look for the 'PS4™ Pro Enhanced' icon on software packaging. 'PS4™ Pro Enhanced' features vary by game. Select titles may have enhanced visuals, frame rate, HDR 10 support, or increases in resolution. Select features depend on the type of display connected to PS4™ Pro. PS4™ Pro plays all PS4™ format games.
**PS Plus membership sold separately.
***Compatible 4K display required as well as subscription to 4K-compatible content streaming service. PS4™ Pro does not support 4K Blu-ray Discs. PS4 Pro provides auto-upscaling for standard Blu-ray Discs.

General

Brand
Sony

Model
3003346

Type
PlayStation 4 Pro Console

Color
Black

Processor Type
x86-64 AMD "Jaguar", 8 cores

Memory/Storage

Installed RAM
GDDR5 8GB

Hard Drive Size
1TB

Optical Drive Type
BD × 6 CAV
DVD × 8 CAV

Graphics

Graphic Processor
4.20 TFLOPS, AMD Radeon based graphics engine

Communication

Ethernet
Ethernet (10BASE-T, 100BASE-TX, 1000BASE-T)

Bluetooth
Bluetooth 4.0 (LE)

Connections

USB
Super-Speed USB (USB 3.1 Gen.1) port x 3

HDMI
HDMI out port (supports 4K/HDR)

Digital Audio
Digital Out (optical) Port

Feature

Feature
Spectacular graphics - Explore vivid game worlds with rich visuals heightened by PS4 Pro.

Enhanced gameplay - Support for faster frame rates delivers super-sharp action for select PS4 games.

One unified gaming community - Compatible with every PS4 game. Play online with other PS4 players with PlayStation Plus.

Extraordinary entertainment - With up to 4K streaming and 4K auto-upscaling for video content.

Dimensions/Weight

Height
2.17"

Width
11.61"

Depth
12.87"

Weight
7.28 lbs.

Feature

Option
PS4 Pro 1TB

Additional Information

Date First Available
July 03, 2019